FILM AND PHOTOGRAPHY STUDIO
Our 3,500 sq. ft. film and photography studio offers an 860 sq. ft. infinity cove with 3 phase and single phase power outlets, its own Wi-Fi network, a private on-set hair and make-up room, and an in-house cafe providing exceptional catering. 
In a contemporary industrial interior with exposed brick walls and polished concrete floors, the unique shooting space features 8-metre high ceilings at its apex and an expansive 180 degree cyclorama covering 580 sq. ft.
Provided as a dry hire space, we can assist in supplying any equipment you may require to complement your individual production's own equipment. We are more than happy to do all we can to help provide for your needs.
For availability, queries and rates, please email: film@thebluestudios.co.uk 
A FLEXIBLE FILMING SPACE
A five-minute walk from the bars, restaurants and shops in the heart of vibrant Dalston, our versatile London film studio has been host to a wide range of projects including feature films, fashion photoshoots, TV commercials, music videos, dance rehearsals and art installations.
Easy Access
The film and photography studio is located on the ground floor meaning easy access is possible via roller shutters.
Clearance from the ground to the top of the shutters is 4 metres, so drive-in access is also possible.
The studio space is wheelchair accessible.
Lighting Grid
The studio for filming is equipped with an 8m wide x 6m deep, unwired lighting suspension grid constructed from 280mm aluminium box truss.
Main tube – 50mm

Brace – 20mm

Rated for a maximum payload of 1,500kg
Access is via a manual scissor lift which is included with the filming studio hire.
Location
Moments from the heart of Dalston in East London, the studio is easy to drive to. Limited parking is available on site in our courtyard. 
The Blue Studios are well-served by public transport: Dalston Kingsland, Dalston Junction and Hackney Downs overground train stations are all just a short walk away.
The 30 and 56 buses stop right outside the studio.
Sound Proofing
A recently built noise barrier wall at the front of the studio ensures the space is quiet, so there is very little chance that audio recording will be affected by any outside noise. 
We always recommend coming in for a recce of the space if you have any specific concerns or requirements regarding soundproofing.
Power & Distribution
There are two 3 phase outlets available in the studio:
1 X 32A 3 phase outlet

1 X 63A 3 phase outlets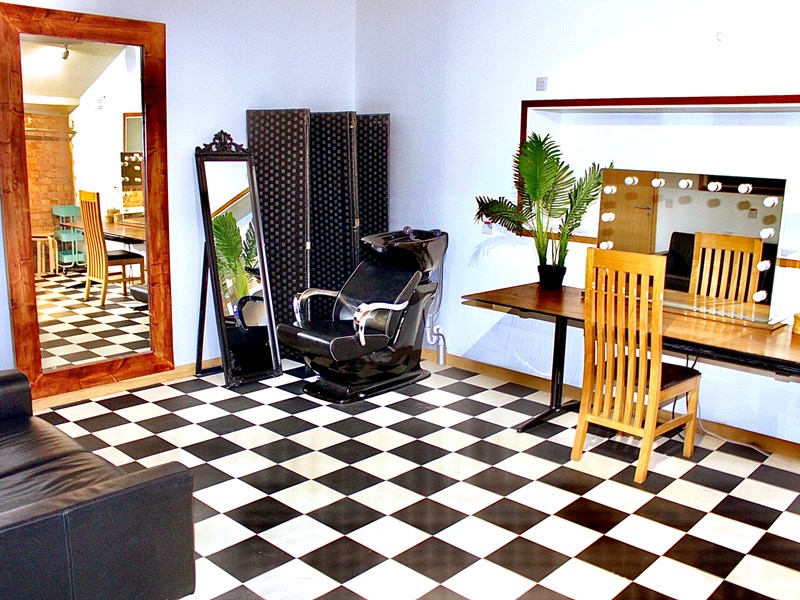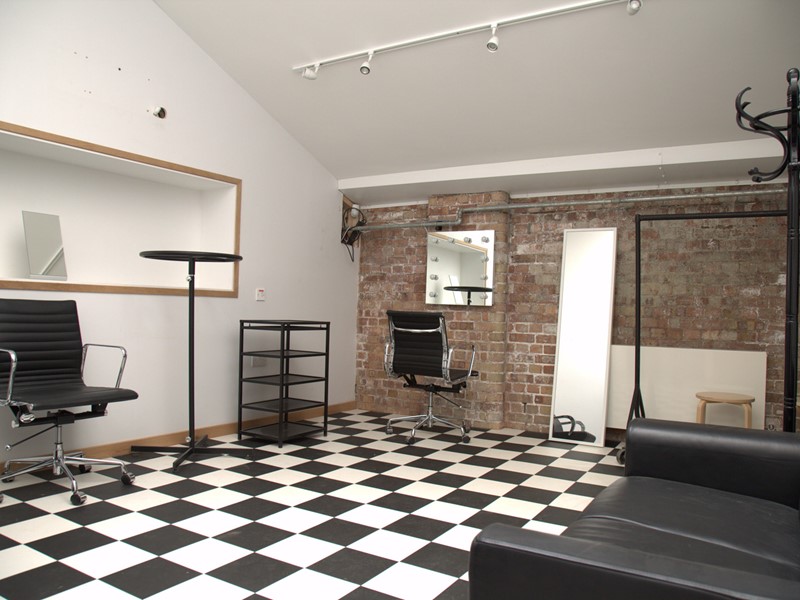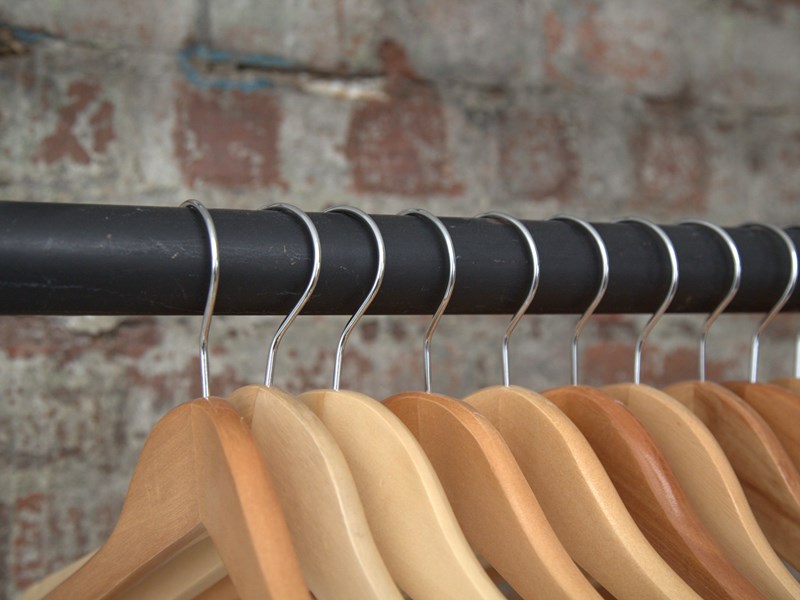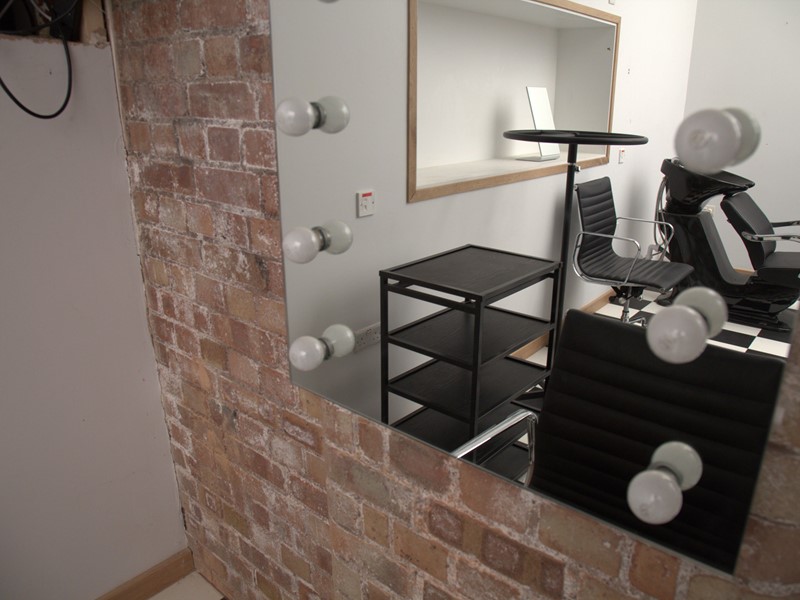 HAIR & MAKEUP
The photography studio has a hair and make-up room fitted with a hairdressing wash basin and chair, and two illuminated mirrors.
The space also serves as a wardrobe area and comes equipped with a clothes steamer and an iron, as well as a clothes rail and dozens of coat hangers.
We have robes and slippers for the talent if needed and shower rooms are available to ensure optimal comfort while on set.
If required for your film or photoshoot, other spaces in the studios can be converted into additional hair and make-up spaces or green rooms.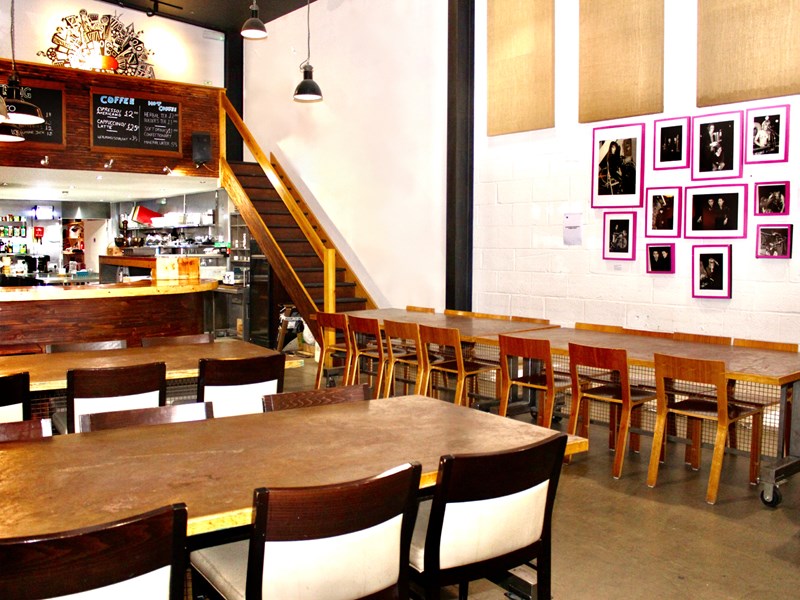 CAFE & CATERING
Our airy coffee shop and cafe serves a range of hot and cold drinks and snacks.
Large enough to accommodate up to 60 people, the space can also serve as a film studios production office and access is included as part of the hire fee. 
We can provide in-house catering from a delicious menu, as required, so you and your crew can enjoy breakfast, lunch and evening meals on site in the cafe area.
Our menu can be tailored to suit vegan and vegetarian diets, as well as any food allergies.